Featured | 14 September 2023
Will AI supersede or supercharge the role of the perfumer?
Artificial intelligence (AI) is the buzzword of the minute across all industries, with many wondering what impact an AI-enhanced future will have on their job – for better or worse. Perfumery is not immune to the questions raised by AI.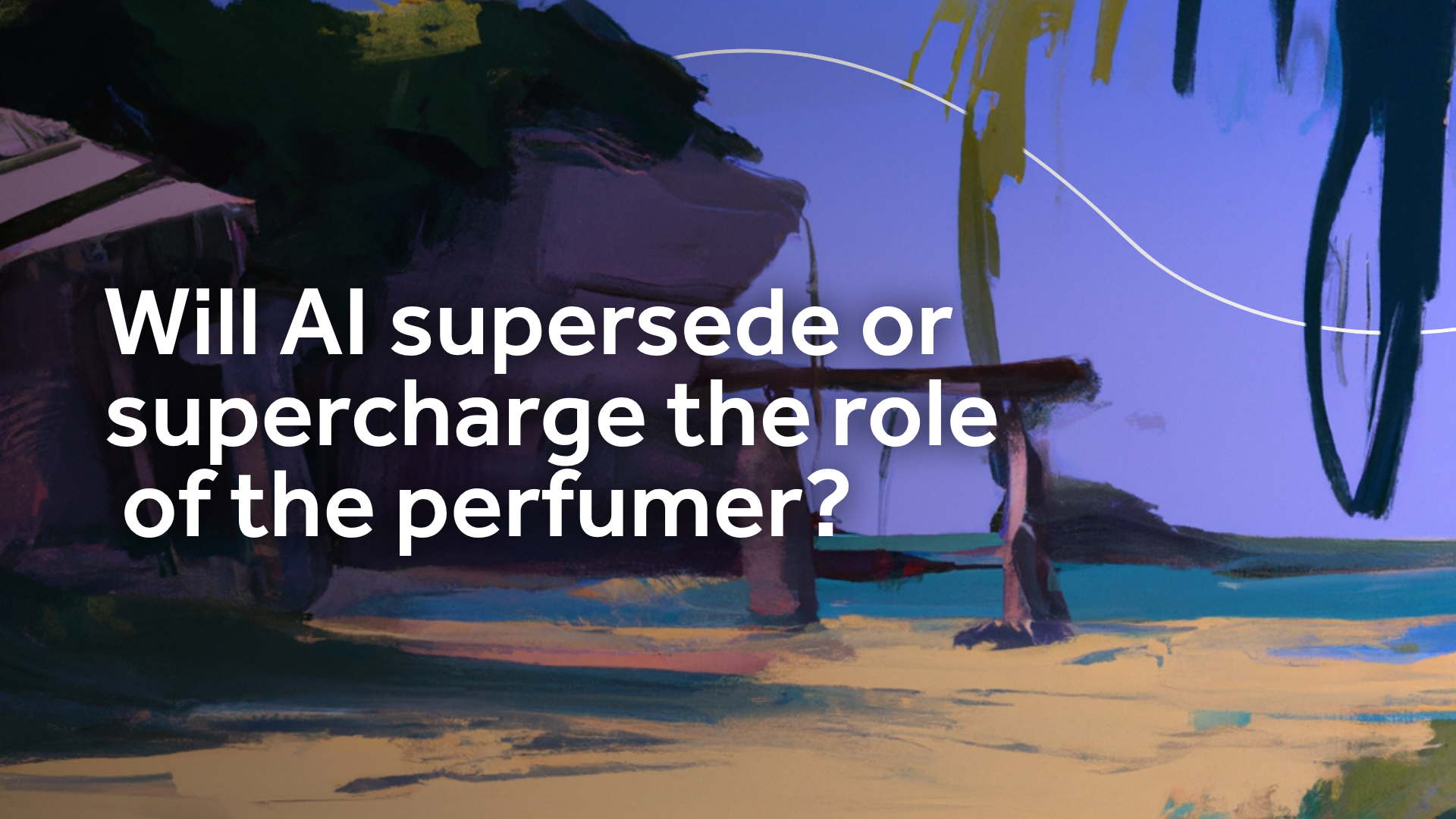 For perfumers, the position and possibility of AI is still under debate. Will this technology replace the role of perfumers in fragrance creation, is there no use for AI in the creative fragrance development process, or is its potential yet to be understood?
To tackle this dilemma, we presented an identical brief to both an AI and our perfumer Kamila Lelakova, to explore where the two may overlap in their interpretation – and where AI's knowledge gaps could lie.
Both Kamila and the AI programme were challenged to create a scent that's evocative of a summer's day spent at the beach, and can be used in a fine fragrance application.
How did AI interpret the fragrance brief?
Throughout its description of the fragrance, the AI made clear that the interpretation was conceptual rather than complete – even acknowledging that work with perfumers and fragrance testing would be needed to transform this description into something that works best in reality.
Regardless, the technology managed to create what it considered to be a "a delicate blend of various fragrance notes to capture the essence of the experience" under the name Sun-kissed Shore. It described the fragrances notes as:
Sea Breeze Accord: This note captures the refreshing and invigorating aroma of the ocean breeze, bringing a sense of coolness and freedom to the fragrance.
Citrus Zest: A burst of zesty citrus fruits like lemon, bergamot, and mandarin, which symbolises the bright and sunny ambiance of the beach.
Coconut Cream: A soft, creamy coconut note reminiscent of sunbathing with coconut-scented sunscreen on the sandy shores.
Warm Sand Accord: The earthy, slightly toasted scent of warm sand, conveying the feeling of lounging on the beach under the sun.
Suntan Lotion: A nostalgic touch of sun-tanning lotion with hints of coconut and aloe, reminding of lazy days spent basking in the sun.
Aquatic Musk: A gentle musk note with aquatic undertones, enhancing the sense of being near the water.
While these elements are all clearly associated with popular beach scents, the variety of them resulted in a final fragrance that is heavy, muddled and lacks subtlety.
How did a perfumer interpret the brief?
Where the AI's interpretation is hectic and conceptual, Kamila's interpretation is more complete, balanced and specific.
Conveying the love affair between sea, sun and sand, her fragrance Sun & Sea Explorer utilises solar coconut sunscreen notes, and effortlessly evokes a summer atmosphere – surfing on the salty waves of the ocean, with a dazzling, warm vanilla sunset in the distance.
Focused on translating the three key elements of a day at the beach into relevant and complimentary ingredients (rather than suggesting broad concepts), Kamila's interpretation was:
Sea: Refreshing scent of marine sea salt, with nuances of mint, cool citrus and light driftwood note.
Sun: A solar bouquet of jasmine, frangipani and tiara flower, representing the warmth of golden sun paired with creamy coconut sunscreen.
Sand: Warm and sweet vanilla accord enveloped in woody sandalwood, adding delicious sweetness to the fragrance.
The verdict: Is AI the perfumer of the future?
The expertise of a perfumer lies in their unique creativity, attention to detail, insight on ingredient interactions, sillage and endurance, and their understanding of trends – and the emotion-evoking power of specific scents.
AI is capable of suggesting popular fragrance types to meet a specific brief, but without the guiding hand and careful curation of a perfumer, these scents won't result in a cohesive final fragrance that appeals to consumer trends.
There is fine-tuning and refinement required beyond the initial fragrance concept, for which technology cannot replace the skills of a perfumer. However, AI does present an interesting new opportunity for helping spark initial creativity: acting to raise conceptual ideas, that perfumers can then use as a springboard for their own creative processes.
Interested in working with our talented perfumers to expertly interpret your fragrance's brief? Contact us here.
Related blog posts