Featured | 31 July 2023
Meet the perfumer: Kamila Lelakova
Fragrances are never created in isolation. A modern perfumer's work is heavily influenced by not only their formal training, but by their memories, scent associations and varied experiences.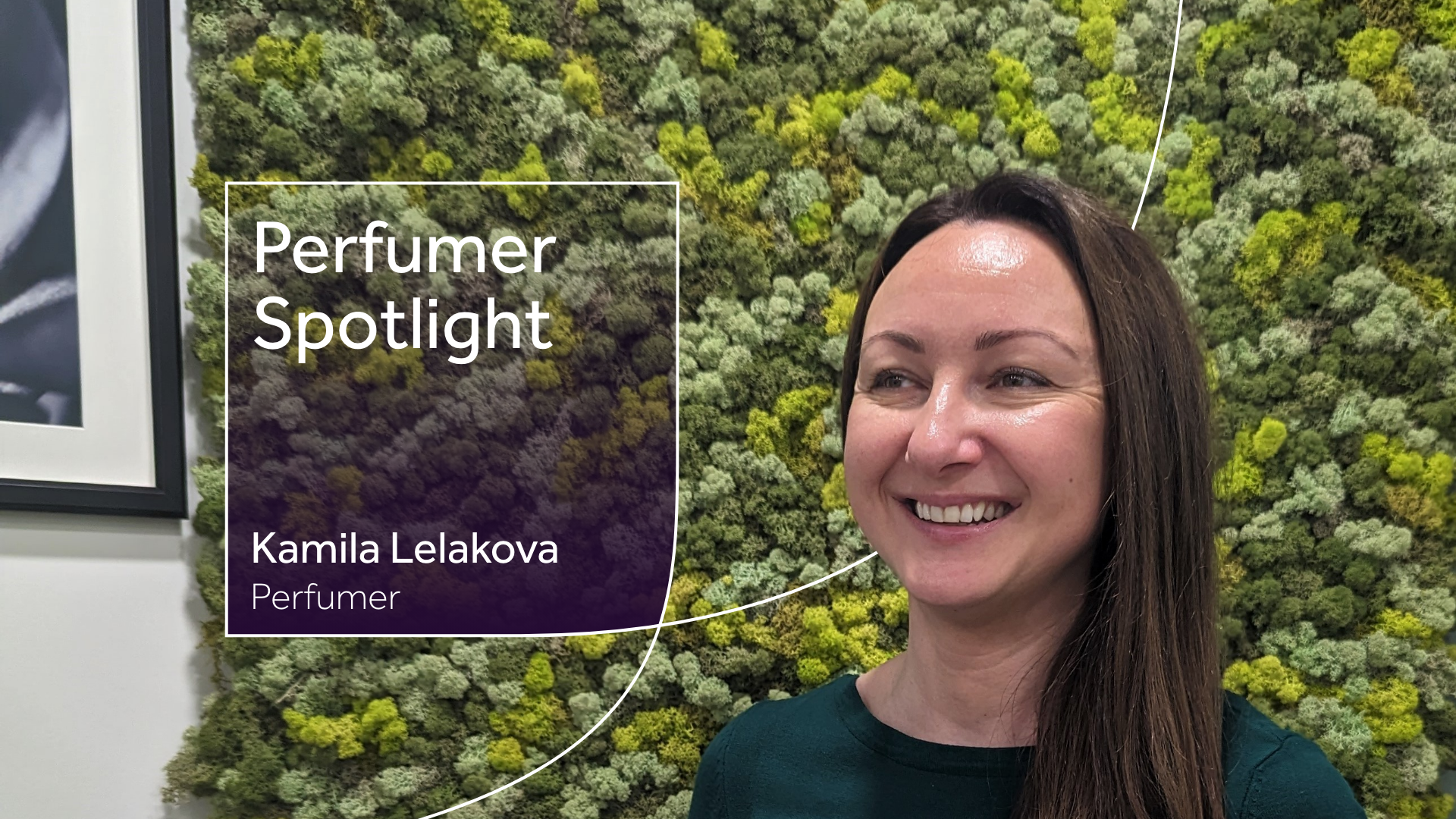 Classically trained in the Roure perfumery method, Kamila Lelakova, Perfumer, expertly blends her fragrance education with a great passion for travel and scent exploration.
We spoke with Kamila to learn more about her favourite ingredients to work with, which scents are nostalgic for her, and how she finds inspiration when creating a fragrance.
When did you become interested in a career in fragrance?
Growing up surrounded by the beautiful nature of forests and mountains means I've always felt a connection with the smell of nature. However, I didn't discover the fragrance industry until later on – and almost by chance. I was absolutely fascinated when I learned that the role of a perfumer is an actual profession, and even now 10 years later I feel very lucky to be following this passion!
What is your earliest memory that you associate with fragrance?
My earliest memory of fragrance has always been the smell of chamomile flowers. From an early age, my mum would put chamomile flowers in the bath to help me get a better night's sleep. Every time I smell chamomile, it makes me smile and makes me feel nostalgic for those happy moments.
What is your favourite stage of the fragrance creation process?
Every stage of creation is different and interesting in its own way, but my favourite is when I select the ingredients I'd like to include in my work. I'm a very visual person, so I love to seek inspiration from mood boards, colours, shapes or textures when choosing ingredients.
Which ingredients do you most enjoy working with?
I specialise in Middle Eastern style fragrances, and have travelled extensively to the region to immerse myself in the unique fragrance culture that exists there. As a result, I carry a love of Middle Eastern fragrance materials with me.
I love oud oil, and sandalwood is one of my favourite ingredients to use because of its creamy soft texture and warm elements that bring depth to a scent.
Which fragrance applications do you feel most passionate about?
I enjoy working on home fragrances, especially candles. Creating a scent for the home is a very different approach to creating a fragrance for fine perfume. I enjoy the more technical side – it's like a form of art.
What advice would you give to a junior perfumer or someone aspiring to enter the industry?
I would say never stop smelling. Keep smelling everything that catches your attention, as you never know when inspiration could strike. Be curious!
How do you apply your own scents?
Sadly, my skin is very sensitive, so I tend to spray my fragrance on my clothes and hair instead.
What do you think will be the biggest fragrance trend in the future?
Sustainability will be the biggest focus for the industry in future, and new innovations will play an important part in making fragrance creation even more environmentally friendly.
Find out more about our creative, talented perfumers and how they work.
Related blog posts