Featured | 17 March 2022
How favourite scents can differ around the world
Fragrance is a truly personal thing. Most of us will have a favourite scent that feels personal to us – perhaps one you've chosen when it was in fashion years ago, or one that evokes memories for you.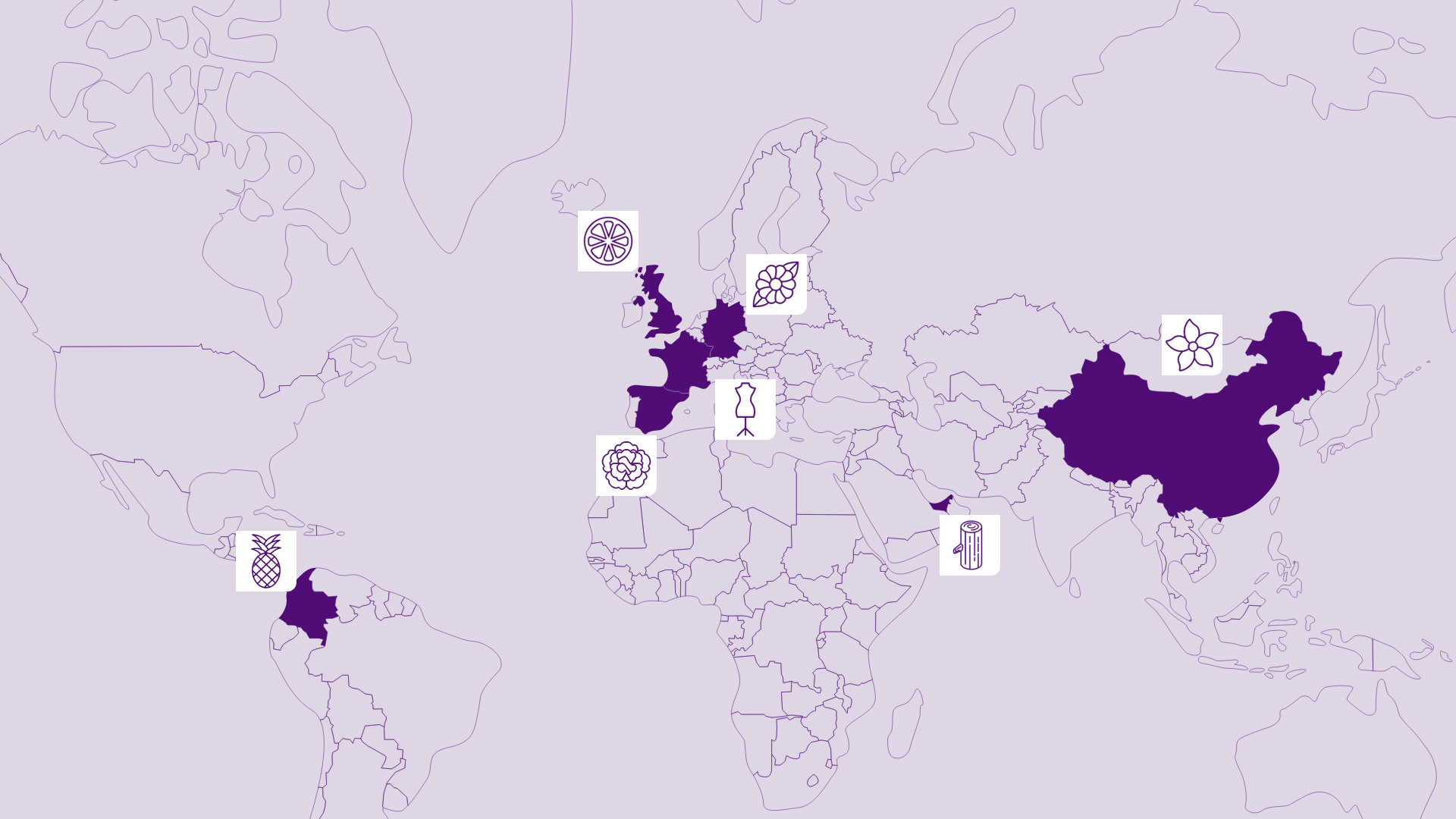 But have you ever thought that this can apply to countries too? Everything from trends and culture, to ingredient availability and popularity can influence which scents are prevalent in a particular place in the world.
So, what exactly are the most-loved fragrances around the globe? We asked different CPL divisions to discover what their country loves, and what influences their favourite smell.
China
Fresh fragrance profiles rooted in naturalness have long been the preference in China – reflecting the country's love of natural remedies and medicines. For CPL Far East, a surge towards these types of fragrances happened during the pandemic, as consumers sought soothing and reassurance from fragrance.
When it comes to fragrance notes, consumers are loyal to local ingredients like osmanthus, tea, jasmine and lily.
Dubai
In Dubai, it's a consumer habit and part of culture to buy impactful, long-lasting scents. These fragrances are used everywhere – filling homes with scent, in perfume, routines and household items.
Dubai's consumers love powerful, strong fragrances – oud blends, opulent white florals, and long-lasting ambery and woody scents.
France
As the home of some of the world's most iconic and loved fashion brands, it's perhaps unsurprising that many of the popular fragrances in France come from heritage brands – like Miss Dior (Dior) or Coco Mademoiselle (Chanel).
The country also has a love for second skin musks – those that sit naturally on the skin, as if they're your own aroma.
Spain
Unsurprisingly, this Mediterranean country has a love for zesty, fruity fragrance notes – nodding to its warm climate and regional produce. Orange blossom, mimosa flowers and carnations add sweet, lively tones to popular perfumes like Coco Mademoiselle (Chanel), Velvet Mimosa Bloom (Dolce & Gabbana), and L'Air du Temps (Nina Ricci).
In-keeping with the theme of nature, thyme is also one of Spain's best-loved scents – offering a woody undertone to powerful popular fragrances like Tuscan Leather (Tom Ford).
Colombia
Colombia has an abundance of exotic and tropical fruits to enjoy year-round, which lend themselves to a variety of unique fragrance accords – with both sweet and bitter fruity facets.
The country is also famed for its coffee, which inspires its fragrance offering too. The scent of coffee can be found in different forms, whether toasted or sweetened in a dessert, offering a unique earthy note.
Germany
This European country has a soft spot for fragrances that are associated with health, happiness and a vibrant lifestyle – so fresh, citrus, and floral scents reign supreme.
Men in Germany tend to opt for fresh citrus smells with warm, woody undertones, whereas women prefer floral scents with sweeter, warmer accords.
The UK
The growing cosmopolitan nation of the UK is equally as diverse when it comes to fragrance choices – there's no one olfactive family that's most popular.
The home fragrance category is a booming market in the UK, spanning products like laundry detergent, dishwasher tablets, cleaning products and more. Within this, there have always been key notes that have historically been used – and will likely always be used – like fruits, citrus, linen and floral.
Want some expert advice on a fragrance project in your region? Get in touch with your local CPL representative.